Don't tell me you're still going to Amazon for your mylar bags?
Well, we don't blame you.
Amazon used to have a wide selection of 3.5 mylar bags with some pretty cool designs in various sizes.
(Click here to read about the correct size of 3.5 bags.)
But on August 5, 2022, Amazon removed all mylar bags from their catalogue that had designs. Now you will only find solid-color or clear bags on Amazon:
Worry not.
Smart Stash carries a (growing) selection of smell proof weed strain bags that you might like - and we do Free Shipping, too.
Premium Cannabis Strain Packaging Bags by Smart Stash
What's your favorite strain?
Blue Dream? Sour Diesel? Jack Herer?
To this day, I'll never forget the incredible Jack Herer buds my buddy back in Maryland would bless me with during his fall harvest.
These buds were 7 to 21 grams in weight.
One.
Big.
Giant.
BUD!
Everyone has their favorite strain.
Some love sativas. Others indicas. Hybrids are nice.
Some prefer dank skunky smell. Others a fruity smell. And some love earthy aromas.
And that's one of the things we love about marijuana: it's very personal, nuanced, and often ritualistic.
As I've aged, one of my favorite parts of smoking, is actually the prep work. Grinding the bud. Slicing open the cigar. Removing the guts. And meticulously rolling the perfect-hitting blunt.
(Guilty as charged: I rarely smoke glass. Almost exclusively blunts. Personally, I recommend Garcia y Vega 1882s - much better than Backwoods.)
What about you? What's your favorite strain, and why?
Tell us your strain of choice - we'd love to make a cool mylar bag for it to go inside!
Smart Stash Space Cookies Bags
Currently, we have three 3.5 strain bags in stock.
The first is Space Cookies.
Everyone's heard of Cookies brand, right?
While we don't bootleg Cookies branded strain bags like our competitors do, we designed some pretty dope Space Cookies mylar bags.
Space Cookies is hybrid strain, a cross between Girl Scout Cookies (GSC) and an Afghani strain.
Have you ever smoked Space Cookies?
I've been told what I was smoking was Space Cookies (days before dispensaries were a thing). I've definitely smoked GSC and all other types of dank, potent strains, though!
Here are some hi-res pictures of our Space Cookies 3.5 gram bags:
Designed by our very talented (and young) designer, these smell proof bags feature an astronaut smoking a joint on the moon.
The back side of the bags feature a see-through marijuana leaf, though which you can showcase your beautiful buds inside. Gusseted (they can stand up), these bags are great for the smoking connoisseur or commercial dispensary.
We sell the Space Cookies bags in 30-packs and 100-packs.
If you want to purchase, view the product detail page.
Smart Stash Wedding Cake Bags
Wedding Cake is a popular strain right now.
When I lived in Maryland, I had a dispensary card and routinely bought zips of Wedding Cake.
Wedding Cake was a nice hybrid, indica-prominent strain. Good buzz, couchlock.
What I liked best about Wedding Cake, was that it calmed me down and helped me focus. I've had ADHD my entire life, and some marijuana strains, like Wedding Cake, really help.
Our designer had a fun time with our Smart Stash Wedding Cake 3.5 bags.
Check out the hi-res photos:
Featuring a bad-ass looking weed character, these premium packaging bags are decorated with lots of marijuana love. Weed leaves galore.
The color selection is nice. We played around with lots of different cake and icing colors.
I think the design came out great.
What do you think?
We sell the Wedding Cake bags in 30-packs and 100-packs.
If you want to purchase, view the product detail page.
Smart Stash Godfather OG Bags
Don Corleone.
The Godfather.
Of course, we had to pay homage to one of the greatest movies of all time, and one of the greatest character performances of all time.
Godfather OG is a beautifully calming indica strain, with an awesome name.
We had to design some Smart Stash bags for the Godfather OG strain.
Check out the hi-res photos: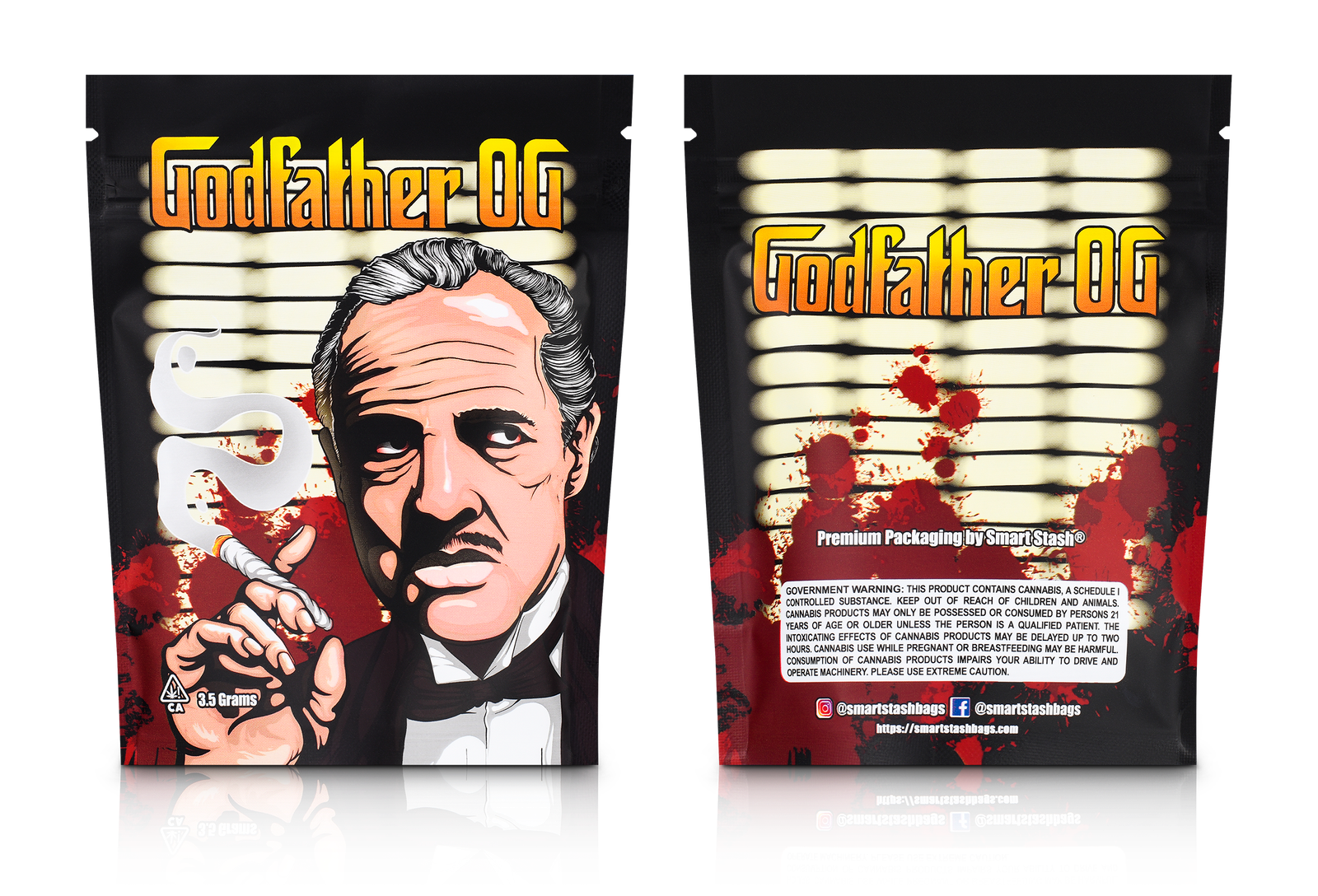 Don Corleone, in his office, smoking a fat joint, with blood splatters in the background.
That's badass.
What do you think?
We sell the Wedding Cake bags in 30-packs and 100-packs.
If you want to purchase, view the product detail page.
We Got Some Pretty Dope Designs, Right?
Smart Stash has been around since 2018.
We've gained lots of traction specifically on Amazon, but think it's time to venture away from the platform.
We aren't cool with how much hate Amazon gives to smell proof bags and mylar bags. Feels very 90s to me.
If you aren't familiar with our products, check out our shop page.
We specialize in carbon-lined smell proof bags, as well as various mylar bags, in various counts: 100-packs, 30-packs, 50-packs, 1/8 bags, 1/4 bags, gram bags, etc.
If you do decide to buy our exotic strain bags, we'd love feedback... What 3.5 mylar bag strain designs would you like to see us do next?
Drop us a line, and let us know!