Smart Stash is the premium brand of smell proof bags, cases, jars and baggies. Sleek and discreet, Smart Stash products won't draw unwanted attention, and you can't smell a thing. Rest assured, no one knows what's stored inside.
View our entire product collection.
We Make Odor Proof Bags That Work
There's nothing more annoying or embarrassing than opening your backpack or purse and accidentally making the room stink. Why draw attention? Smart Stash is designed to keep you safe. No one has the slightest idea what is inside your bag.
Smart Stash bags and cases are carbon-lined. Carbon is extremely porous and chemically binds to odor particles, trapping smelly scents tightly inside. Using the most advanced carbon fiber, Smart Stash smell proof pouches and smell proof cases contain millions of micropores that chemically bind to odor molecules — absorbing the strongest of smelly, stinky aromas.
7x6" Classic Bag
The 7x6" Smart Stash pouch is perfect for the car, or travel in general. Easily fits inside purse, larger side pant pocket, or backpack. Small, but holds essentials accessories.
11x6" Classic Bag
Sleek and discreet, the 11x6 Smart Stash bag is perfect for storing the larger essentials. If you have a favorite backpack, this 11x6" pouch will easily fit nicely inside. Go anywhere without stinking up the room.
9x7" Zip-It-Up Bag
Prefer zippers with your bag? Our newest model, the Zip-It-Up Bag features the same great functionality as our classic bags, but features waterproof SBS zipper like our cases. The 9x7" size is the perfect hybrid between our small 7x6" Classic Bag and our medium-sized 11x6" Classic Bag.
11x9" EZ-Carry Bag
The 11x9" Smart Stash bag is perfect for holding a larger amount of goods. With the detachable handle, carrying the pouch even when stuffed full is easy. Although a larger size, this bag still fits perfectly inside your backpack, briefcase, duffle bag or luggage.
8x4x3" Lock-It-Up Case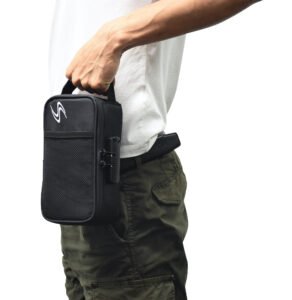 The 8x4x3" Smart Stash case with combo lock is perfect for keeping unwanted hands out. Our smaller size, this odor proof case fits all the essentials. Perfect for travel — carry as is, or toss into your backpack when on the go.
8x6x3" Lock-It-Up Case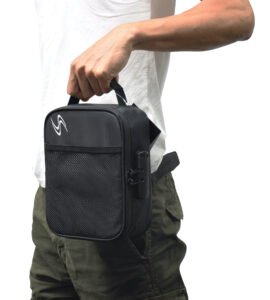 The 8x6x3" Smart Stash case with combo lock is also perfect for keeping unwanted hands out. Quite large, easily store all your accessories, odor proof jar, and more. Perfect for parents or roommates to help keep your contents safe.
11x9" Lock-It-Up Bag
This large odor proof bag features 3-digit combo lock, carrying handle, and 4 inner mesh pockets. Plenty of options for organization. The combination lock helps keep your contents secure. Large storage capacity.
Half Ounce Stash Jar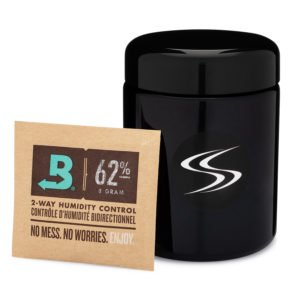 The 250ml Smart Stash Jar holds around 14 grams of dried goods. Constructed of UV-resistant European glass, Smart Stash Jars protect your contents. The BPA-free lid features violet-coated energy barrier to keep goods potent. Each Smart Stash Jar comes with one 62% 8-gram Boveda humidity pack to keep your goods fresh for months.
3x4" 3.5 Oz Mylar Baggies
The 3x4" Smart Stash baggies seal air tight, to keep smell locked inside. Heat sealable with impulse sealer. Durable material resists tears and punctures. Good for grams and eighths (1/8 oz).
4x6" Quarter Oz Baggies
The 4x6" Smart Stash baggies seal air tight, to keep smell locked inside. Heat sealable with impulse sealer. Durable material resists tears and punctures. Good for grams, eights and quarter ounces (1/4 oz).
4x6" Quarter Ounce Dispensary Bags
The 4x6" unbranded mylar bags are industry standard packaging, thick and durable. Heat sealable with impulse sealer. Strong zipper seal for long-term use. Great for dispensary packaging.
4x6" 1/4 Oz Stand Up Sample Bags
The 4x6" mylar bags with clear window are perfect for showcasing samples and keeping goods organized. Featuring gusset, these stand-up bags make great display product packaging for dispensaries.
From Over 1,680 Verified Customer Reviews
Smart Stash began as a very smart solution to a stinky situation. Since then, we have grown and positioned the brand as the top choice for everything smell proof - maintaining 4.6/4.7 out of 5 stars, from over 1,686 verified reviews (as of January 2021).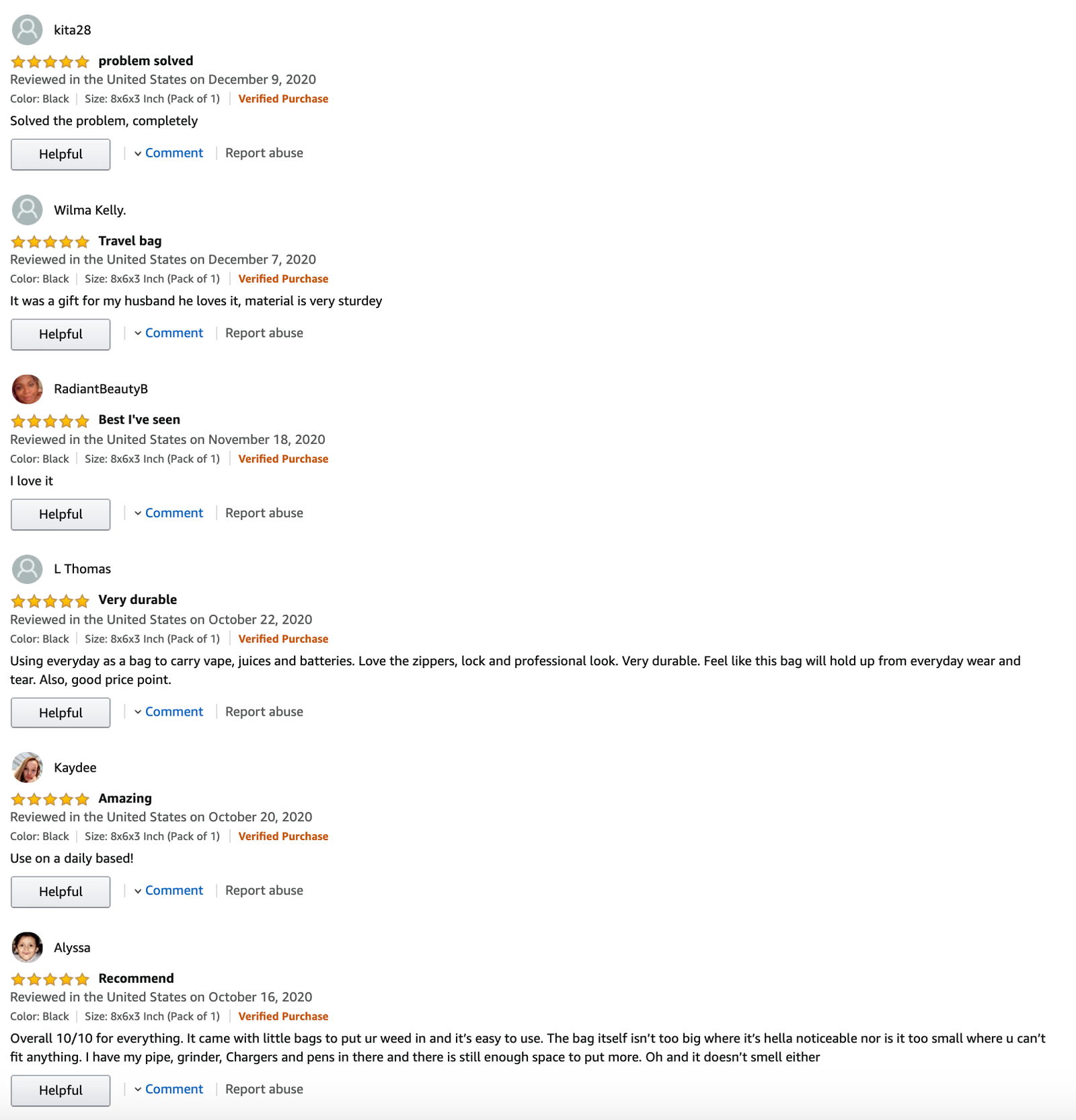 What are the bags made of?
Smart Stash carbon-lined bags consist of five layers:
Layer 1 = Premium polyester with PVC backing
Layer 2 = Filterable non-woven fabric
Layer 3 = Propriety activated carbon lining
Layer 4 = Filterable non-woven fabric
Layer 5 = Protective mesh interior
Smart Stash pouches use premium grade 600D polyester, which is water resistant and very durable. Smart Stash cases use a higher grade of polyester, at 1680D, and are waterproof and more heavy duty.
The interior mesh allows contents inside your bag or case to be directly exposed, via the filterable non-woven fabric, to the activated carbon lining.
The activated carbon lining is what makes the bag smell proof.
What are they made for?
Smart Stash bags are designed specifically for strong, dank aromas. However, there are a variety of uses for our bags, including:
Tea, spices and herbs
Dog and cat treats
Dog poop and diapers
Bear proof (when camping)
Food, cheese, beef jerky
Perfumes, soaps, other fragrances
Anything with intense odor

How Do They Work?

Smart Stash's propriety activated carbon lining makes our bags and cases smell proof.

Treated for increased surface area, carbon-lined bags feature active charcoal carbon lining which essentially absorbs odors much like a sponge. When the odor molecules come into contact with the activated carbon, the odor is chemically trapped inside the carbon pores.

Smart Stash bags use millions of micropores to "suck up" odiferous compounds, which is why they are so effective at trapping and eliminating even the strongest of smelly smells.

How Long Do They Last?

Since Smart Stash products can be "recharged," they essentially last a lifetime of use.

Although the surface area of the carbon lining is extremely voluminous, over time, the carbon pores will fill up. We estimate the possibility of needing to reactivate your bag's carbon lining after about a year or so of regular use.

To reactivate the carbon lining, simply turn the bag inside out and place in the sun or in the dryer on light heat for just 10 minutes. The heat breaks the chemical bonds, the odor compounds are released, and the bag is just like new.

We Have A Stash Bag For Your Every Need

Whether you're looking for small pouches that fit inside your purse, or larger bags to toss inside your backpack or briefcase; bags and cases that lock, bags with handles; velcro bags or zipper bags: Smart Stash has it all.

From carbon-lined bags and cases, to odor proof jars and baggies, Smart Stash products are perfect for travel or home storage. Make sure to follow our Instagram for updates and new product releases: @SmartStashBags

Check out our Smart Stash store to view our entire collection of smell proof bags designed specifically for recreational and medical marijuana.