Premium Smell Proof Baggies
Premium pack of 100 baggies, extra thick (4.55 MIL), by Smart Stash:
✔ Durable
✔ Heavy Duty
✔ Zipper Seal
✔ Heat Sealable
Smart Stash 5-Star Reviews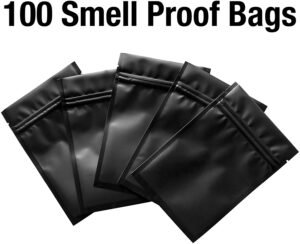 From carbon-lined bags and cases, to glass jars and mylar baggies, choose Smart Stash products for a smell proof lifestyle.
View our entire product collection.
Smart Stash
Average rating:
1 reviews
Apr 22, 2019
Professional, simple, and functional
Delivery was quick and easy and the bags were nice and neatly packaged. They are a perfect size for what I need, and they completely eradicate the odor. I'm very pleased with my purchase.