Premium Smell Proof Bag
Premium smell proof pouch by Smart Stash:
✔ Durable
✔ Heavy Duty
✔ Velcro Seal
✔ Inner Pockets

Smart Stash 5-Star Reviews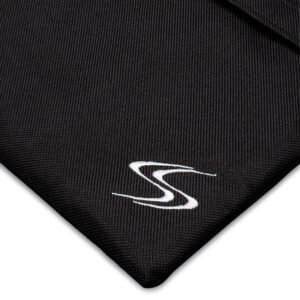 From carbon-lined bags and cases, to glass jars and mylar baggies, choose Smart Stash products for a smell proof lifestyle.
View our entire product collection.
Smart Stash
Average rating:
28 reviews
May 4, 2019
Just as good as Skunk brand bags, much better price
These are almost identical to the Skunk brand bags in terms of design, quality, function and durability at a much more reasonable price. They work great!
Apr 2, 2019
Best pouch very sturdy
Love this pouch have never smells perfect

Mar 31, 2019
Works good, but not magic.
Helped with smell.

Mar 16, 2019
I love it most definitely worth the money
Smell..... lol what smell

Jan 29, 2019
It Does The Job!
I was sceptical at first... Thinking this was just going to be like any other bag, that it's durable, NOPE! A must buy! I love it! It keeps the smell in and it's a double seal. I would recommend this bag to all my family & friends.

Jan 14, 2019
Effective smell-proof bag
Works exactly as described.

Jan 8, 2019
It works!
Can't smell anything when it's in this bag 😉
Jan 6, 2019
Perfect, a must have
Great quality and does the job
Jan 1, 2019
Nice material and build
Gets the job done!
Dec 30, 2018
Awesome product. Definitely works
Works and does the job

Dec 12, 2018
Big pouch
Just recived today and thought is share how big this thing actually is. I was looking for something a little smaller but couldn't find any pictures showing size.

Dec 10, 2018
It works well.
It works.

Dec 9, 2018
100% smell prove
Keeps the smell sealed. Haven't had any issues yet and I've had it for about month and a half.

Nov 4, 2018
Awesomeness
Not only does it contain any odors, but it's stylish too. Fits just right for travel.
Oct 28, 2018
Scent proof pouch!
Works as advertised!
Sep 23, 2018
Works
I bought this to put cat treats in because my cats will literally open my kitchen cabinets and pull everything down to find treats that are behind. This bag does the trick! They have no clue there are treats in his house.

Aug 25, 2018
Works Great!
Discreet looking and works well. The double velcro closure keeps secure
Jul 23, 2018
Good quality, lives up to promise
Just what it describes. Good quality, would recommend

Jul 12, 2018
Truly smell proof!
I can't smell anything stored in this bag! I'm very happy with this purchase!

Jul 2, 2018
Quality bag, works great, simple and effective.
I found this to be a quality bag. Very durable, locks in the smell and perfect size.

Jul 1, 2018
This is a great item to have
this product does exactly what it says it will do. This is a great item to have, purchased it for my sister in law and she loves it. she is telling all her friends about it and so am I.

great item!
Jun 15, 2018
Great product and value, compared to others that I have looked at.
Great bag, especially for the price. It does everything that it states, and has a secure seal to keep out odors. I have officially cleared the air in my apartment! Looks like it is durable too.

Jun 15, 2018
Simple and Works
I was in a big need of a product like this.
This product in particular caught my attention the most because of its simple design and the price compared to others like it.
The bag actually works as advertised. The super strong 2 part velcro strips and the tech inside work hand n hand to actually make it smell proof.
To put this in perspective I'm a professional dog walker in a Pretty prestigious type neighborhood.
The problem is there is no dog waste disposal trash cans anywhere. Before I would have to put the waste in bags and have to just deal with it for the duration of the walks The smell proof bag allows me to put the waste in discreetly as well as not worrying about the smell anymore.
Jun 12, 2018
Great Bag Overall!
Wow! This bag actually works! I was skeptical at first, but it is easy to open and the Velcro is very strong. The bag also feels wonderful in my hands. A nice bag overall!

Jun 11, 2018
Awesome bag!
Awesome bag! It arrived on time & I was completely satisfied. I found it to be just as described in the ad.

Jun 4, 2018
It works!
I bought this bag mainly out of curiosity. I wanted to see if it would really hold in a strong smell. I can now report that it definitely does! The first thing I tested it with is a strongly scented soap. This soap smells like incense and the scent fills my entire bathroom. So the first day I got the bag, I put the soap in the bag. The scent was completely undetectable in the bag. For good measure, though, I left the soap in the bag. I still cannot smell the soap through this bag even after five days. I really thought the scent would seep through, but it has not at all. I am really impressed! If I try another scented item, I may leave an update.

My conclusion is that if you have an item with a scent that needs to be contained, this will do it! It looks like the double velcro seal is what does the trick. Even when I open the first velcro seal, I can't smell the soap. It's not until after I open the second seal (in other words, when the bag is completely open) that I can finally smell the soap again.

The size of the bag is nice too. A wide variety of items would fit in this bag. The seller has also been very engaging. I have received a series of emails checking in to see how I like the bag and offering help if I have any questions or issues. It also came quickly, as promised, and I think it is a good value for the money. I would definitely recommend it!
Jun 2, 2018
Really does work!!!
I received my bag and it really does work! I like the size, looks cool too. Good purchase