Premium Smell Proof Case with Combination Lock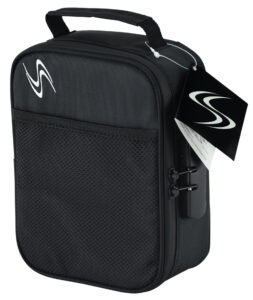 Premium smell proof stash box by Smart Stash:
✔ Heavy Duty
✔ Weatherproof
✔ 3-Digit Combo Lock
✔ No-Snag SBS Zippers
✔ Removable Dividers
✔ Inner Pockets & Compartments
Smart Stash 5-Star Reviews
From carbon-lined bags and cases, to glass jars and mylar baggies, choose Smart Stash products for a smell proof lifestyle.
View our entire product collection.
Smart Stash
Average rating:
13 reviews
May 2, 2019
Discreet case
It's perfect size to throw in backpack and holds a lot.
Mar 25, 2019
Great steal for the price and capacity!
This is a really good product for not wanting your whole place to smell like gas or when you want to bring it with you and not have anyone wondering where that smell is coming from. The storage is nice for my liking and theres nice compartments for your accessories and what nots.

Mar 21, 2019
Tote
Love how it unlocks and the fact it has so many compartments I'm sure the bday girls will love them

Mar 16, 2019
Neato
Pretty nifty little thing.
Mar 9, 2019
Excellent Choice for smokers
Have variety of pockets and with lock feels safe
Mar 2, 2019
Too legit to quit
Seems legit just came in today I'd recommend this to anyone

Jan 27, 2019
Would repurchase
Its really a great bag and is completely smell proof. I love it

Jan 26, 2019
Great buy!
Nice!
Jan 15, 2019
This works!
Love it definitely helps keep the smell down

Jan 8, 2019
Great
Does the job I do recommend
Dec 30, 2018
YAY! No more weed smell!
I searched online, found this bag and went for it. We gave it to her for Christmas and I have not smelled [anything] since! Whooo Hooo! Added bonus is the built in combination lock to keep it nice and secure!

Dec 19, 2018
Can't lose the keys!
Got this to lock up medication on camping trips. Looks like it will be very useful and I won't lose the keys...there aren't any!

Nov 14, 2018
Suits my needs
The case is pretty big, about the size of a lunchbox. It has lots of space inside with lots of compartments to organize. The material feels durable too. I like that the case comes with a lock. It was easy to setup my code and now nobody can get into my stuff. Overall I give it 5 stars